Introduction
The risk questionnaire is usually completed during the fact-finding stage of the advice process, forming a key part of the discussions between the adviser and client. The questionnaire establishes the risks a client is willing to take, and lays the foundations of discussions around an individual's willingness to take investment risk, which is a vital ingredient in providing high quality financial advice.
As a financial advisory firm, if you're looking to switch your existing risk questionnaire, this guide will help you to select one that is reliable, repeatable, and can be used with all your clients, to ensure that your advice remains compliant with the latest Financial Conduct Authority (FCA) requirements.
We appreciate that there are a variety of risk assessment questionnaires in the marketplace, which means choosing the right questionnaire for your business is crucial. Our guide makes it easier for you to understand the reasons for change and the steps involved in switching to a different risk profiling solution.
Best Practice Guidelines from the FCA
You will need to be sure that the attitude to risk questionnaire you use covers the different factors outlined in the FCA's best practice guide. The regulator has clearly stated that an investment recommendation must take into consideration the amount of risk an investor is willing and able to take. Questions should be asked and recorded to understand the customer requirements as per FCA Handbook Section 9.2.2 of the COBS rules. The FCA has also stated that good practice requires a company to use one process to assess their customer's attitude to risk, and a separate process to assess their capacity for loss. Financial advisers must ensure that both are appropriately considered as part of a suitability assessment. In the MiFID II regulation update, the FCA has also included guidance around simplifying the attitude to risk questionnaire to become less of a general financial knowledge questionnaire and more about a balanced view of a client's attitude to risk.
The following 11 salient points include suitability guidance issued from the FCA in this area:
| | |
| --- | --- |
| Sensitivity to answers to individual questions | Avoid misinterpretation of anomalous answers by accounting for this in your attitude to risk questionnaire. |
| Clearly worded and easily understandable questions | Are your questions easily understood and unambiguous? |
| Avoidance of wide risk bands that include customers with very different risk profiles in same risk band | Ensure that clients fall into clear and realistic risk bands following the completion of an attitude to risk questionnaire. |
| Clear descriptions of risk | Clients should have a clear understanding of each risk band and what investment risk means to them. |
| Capacity for loss | The level of risk that your client is prepared to take is different to the capacity that they are ABLE to take. |
| Information on investment objectives | Investment objectives should be clearly detailed. This could take into account term and appropriate asset allocations for the client's objective(s). |
| Customer engagement and understanding | Contextual explanations that can be communicated in a variety of appropriate formats (e.g. visual forecasting, descriptions, emoticons etc.) |
| Investment recommendation consistent with customer's risk profile | Investment recommendations should be matched and checked with appropriate risk profiles. |
| Regular management information | Whether this information is communicated in written or digital format, it's important that the client is regularly updated with feedback, as is the firm. |
| Regular updates of customer risk profiles | In separate exercises, continue to ensure that customer risk profiles continue to match the associated fund risk level. This should be communicated effectively to the client. |
| Guidance on the use of risk profiling tools | If risk profiling tools are used by an adviser,it's important that the client understand of what these comprise and how they have been compiled. |
Understand how the risk questionnaire is constructed
You should use a verified and statistically checked risk questionnaire so you don't have to create one yourself. However, when assessing a supplier or a new risk questionnaire, it's important to understand for yourself and your client how it has been constructed.
There are several critical steps that should be taken by the provider before arriving at the final version. Set out below is how we have created a compliant risk profiling questionnaire that can be used with the our range of Asset Allocations.
Step 1 – Create an initial large bank of questions
To create a robust attitude to risk questionnaire, we started with an initial bank of around 100 questions. This is more than will be required but will give the reviewer the option to test future questions by including and excluding them from the final published questionnaire. This large question bank will ultimately be filtered down to a smaller list but it's important to start with a large bank to be able to vary the approach.
In best practice, an initial questionnaire bank should combine a number of different approaches such as:
Emotional Questions: Focus on how the individual feels about taking risk

Self-Assessment Questions: Encourage individuals to judge their own appetite for risk

Past Behaviour Questions: Ask what previous investments an individual has made and their knowledge and understanding of how risk can impact them

Scenario Setting Questions: Aim to establish what an individual's reaction is in a given situation
A varied approach as outlined above, means that a questionnaire can holistically be used to accurately establish attitudes to risk whatever the characteristics or tendencies of a particular individual might be. Additional questions should also be incorporated into the questionnaire process to reduce sensitivity to answers given to any one question. You are likely to have a wide range of clients with very different backgrounds and ranges of investment experience.
Step 2 – Questions filtered to create a test set
This initial bank of questions should be reviewed by psychometric specialist(s) to:
Remove ambiguities and the risk of varied interpretation by customers
Ensure all the content relates to attitudes towards investment risk and not a general financial knowledge test
Ensure language is easy to understand and doesn't include overly technical terminology or jargon that will confuse a client
Improve clarity of expression
In accordance with MiFID II guidance from the FCA and EIOPA, the initial bank of questions should be clear, easy to understand and cover different types and lines of questioning. From this initial bank of questions, it would be best practice to filter the number of questions down whilst still retaining the integrity of the test. We will condense the larger bank of questions down to around 24 that will be progressed to the next stage.


Step 3 – Check that the questions clearly measure attitude to risk
Questions need to be understood and have a sufficiently wide variation in responses to be able to successfully measure attitude to risk. Including a number of different approaches can help differentiate between those with different characteristics and each question should work equally well regardless of age, sex, geography or experience. Sometimes, inserting a good question can significantly improve the reliability of an attitude to risk questionnaire. The critical thing to remember is that this should be an attitude to risk questionnaire, not a general financial knowledge quiz. We ensured to keep questions relevant and contextual to ensure that a reliable result is obtained.
Factor analysis – Do the questions actually measure attitude to risk?
Step 4 – Statistical analysis for reliability and validity
Questionnaires should be tested carefully using statistical techniques to ensure their validity, reliability and accuracy. Risk profile descriptions used to summarise the results from a risk profiling process should be clear and succeed in communicating the levels of risk involved. A comparison between different risk levels should not be made. A good questionnaire should be able to clearly illustrate the 'bumpiness' of the investment journey.
Risk profiles must be clearly defined so as to avoid clients with very different attitudes to risk ending up in the same risk profile. A good questionnaire will show the location of a client's risk profile on the risk scale and the probability of the customer being in the next risk category. A well-constructed questionnaire should be repeatable, meaning that if an individual was to complete it multiple times, they should end up in the same risk category most, if not every time.
All questions should be trialled with target investors before being used in a questionnaire to ensure that they are easily understood and unambiguous. For example, we should not use questions that are vague, use double negatives or complex language. Likewise, the options given to answer a question should not be vague, as this can be misinterpreted by customers, leading to poor outcomes. A "middle" answer can often be selected by the customer due to a lack of understanding.
We should not assume that an investor has any level of mathematical ability to help them calculate a response, so questions that refer to percentage figures should not be included. Ask yourself, if you had no prior investment experience, would you be able to answer the questions? If the answer is no, then they are unlikely to meet with FCA best practice.
Step 5 – Best questions selected for questionnaire
The final set of questions that are chosen for an attitude to risk questionnaire should deliver robust psychometric results and a quality customer experience for clients and advisers. The standard deviation should make it easy to differentiate between customers with distinct attitudes to investment risk. Our attitude to risk questionnaire will comprise of around 13, 15 or 18 questions that will ultimately match responses to 5, 7 or 10 risk profiles. Reducing the number of questions should help present a better customer experience and still retain the reliability and performance that is required. A good final question set should have high levels of accuracy and consistency whilst enabling clear definition between risk profiles.

Step 6 – Establish the boundaries for the risk profiles
There are a variety of ways to set the exact boundaries for investor risk profiles. We leverage a pragmatic academic process through educational testing to systematically finalise the boundaries for our risk profiles. You can find out more information about our risk profile development here - [G. J. Cizek. In: Handbook of Test Development. S.M. Downing & T. Haladyna (Eds.) Lawrence Erlbaum (2006)]
When setting the boundaries for risk profiles, we have followed the below 5-step process: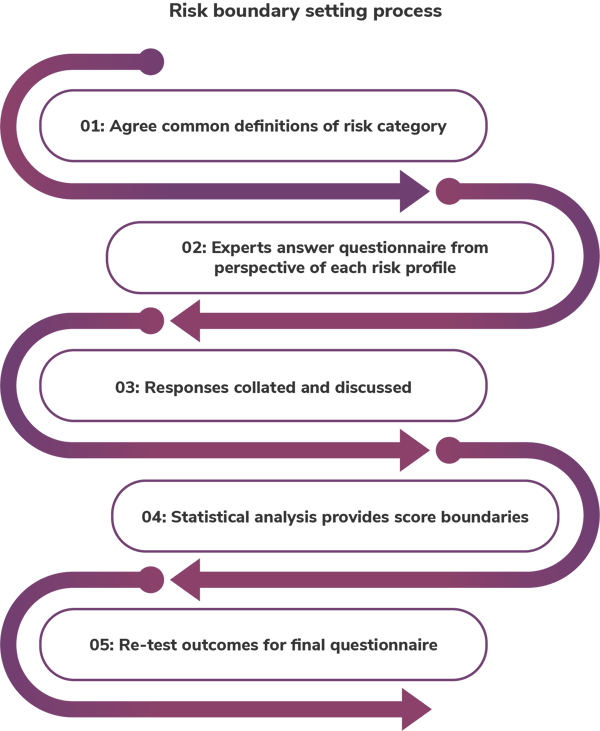 Absolute vs. Relative scoring
The scoring methodology behind an attitude to risk questionnaire can make a big difference to a client's risk profile. Some attitude to risk questionnaires will score completions based on relative scoring. Relative scoring means that the way in which other individuals answer the questionnaire has an impact on their results.
For example, we could think about it in terms of a school examination where 80% was required to achieve the top grade. If you achieved this mark, you would be expecting this grade, however in a relative scoring scenario, the mark to achieve the top grade can change, and is relative to how well other students may have done in their exams. Essentially, only a certain percentage can fall into all the grade barriers. What does that mean in relation to an attitude to risk questionnaire? It could mean that based on answers from other questionnaire completions, clients could fall into categories that are higher or lower than expected depending on who else answered the questionnaire .
On the other hand, questionnaires that use absolute scoring to assign a client's risk profile based on their answers will remain unchanged irrespective of who else has completed the questionnaire. In an absolute methodology, there are clearly defined boundaries that remain consistent throughout the entire process. Typically, absolute scoring more accurately reflects the expectations of the client and the financial adviser, requiring less administration and explanation. Absolute scoring allows your client's risk profile to be identified independently of other users of the questionnaire. It also means that mapping to an asset allocation takes into account the actual risk characteristic of the clients. The risk level doesn't change over time based on responses by others – if the population on average becomes more risk averse but your client answers in the same way, an absolute score will give the same result but a relative one will show an increase in risk.
Introducing a new risk profile questionnaire to your business
This may be more complicated depending on which questionnaire you are moving from and to. To move to the our risk profile questionnaire, the steps are:
Whether it's due to administrative burdens such as paper-based, poor file gradings or compliance hurdles, it might be time to change your attitude to risk questionnaire.

Decide how many risk profiles you want to use, and hence select the appropriate questionnaire. We typically offer 5,7 and 10 risk scales. Absolute scoring allows your client's risk profile to be identified independently of other users of the questionnaire. It also means that mapping to an asset allocation takes into account the actual risk characteristic of the clients. The risk level doesn't change over time based on responses by others – if the population on average becomes more risk averse but your client answers in the same way, an absolute score will give the same result but a relative one will show an increase in risker question sets.

Then compare the expected return, risk and volatility of your existing strategic asset allocations for each of the risk profiles/investment terms with ours. Consider use our Fund Risk Assessor to help complete the mapping exercise.

If you are happy that your portfolios are aligned, then introduce your new risk questionnaire at the next client review. Customers in a discretionary mandate will be risk profiled together, so an adviser communication should be scheduled to ensure allocation rebalancing is well communicated.

Consider how you are going to deal with a client with a potential change in risk profile. Does their investment have to change? Investment committee or firm needs to agree a policy and ensure advisory and paraplanning staff are trained accordingly.

If you have decided to change both your risk questionnaire and strategic asset allocations over to us, then you will need to map your existing asset allocations to our new asset allocations. How different are they? Consider using our Fund Risk Assessor to help complete the mapping exercise. A 60 day free trial is offered for this tool, to help you complete the analysis.

Assess your model portfolios - Do they need to change?

Consider inviting a sample number of your clients in for a review. Maybe those that have previously scored at a very low or very high risk profile. Trying the questionnaire out internally may also prove worthwhile as most of your advisory staff will be familiar with where they sit on the existing risk profiling tool. If there are discrepancies, discuss the reasons for this internally and how this affects the mapping across from the old to new risk profile tool. Document customer feedback on ease of understanding and use.
Introducing a client to a new risk profiling process can be a great way to re-engage relationships within a financial adviser's client base. Adopting a new risk profiling process also gives you the opportunity to reach out to new customers with news of the switch and added value process.
Matching an individual's expectations with an investment recommendation is possibly one of the most crucial steps in the advice process. All too often events such as short-term capital loss, for example, can come as an unwelcome surprise. The difficulty lies in explaining all the different types of investment risk that exist and the potential reward available for taking them. This is where stochastic modelling can play an important role.
Mapping risk profiles to asset allocations
For each of the risk rating outcomes of our risk questionnaire, there is an asset allocation portfolio derived directly as an output from our stochastic Economic Scenario Generator (ESG) model. The model is updated every quarter and, as a result, the efficient portfolios can also change over time to best reflect the current market conditions. These efficient portfolios determine the mix of assets that will achieve the highest expected return for a given level of risk over a specific investment period.
Investment term is of paramount importance when constructing a portfolio, since the timescale associated with a given investment objective is fundamental in determining the most suitable asset classes for an individual's portfolio. For example, while the return on cash may have little or no variation in the short term, it can vary more dramatically over longer periods as a result of changes in interest rates. Investors should therefore be assigned a portfolio based both on their risk profile and their potential investment timescales.
We use 4,8,13,18 and 25 years as a proxy for a range of investment periods and the proposed portfolios are applicable to investment periods of 3-5, 6-10,11-15,16-20 and 21+ years respectively.
Targets for each term are set based on benchmark asset allocations for the highest and lowest risk categories. These correspond to descriptions of the relevant risk levels and are in line with market practice for corresponding investors.
To create the mapping from the risk questionnaire to the asset allocations, we set definitions for the lowest and highest portfolio risk categories so that they are consistent with the risk profiles of individuals who fit into the corresponding categories. Our questionnaire is based on absolute scoring, which means that we start from the definition of a category and then create the scoring to meet the definition, rather than just taking a distribution of results and splitting them into categories. This ensures the robustness of a mapping process.
Fund Selection
Following the FCA's guidance on assessing customer risk and the suitability of investments, it has never been more important for financial advisers to be able to understand the risk exposure of funds they recommend to their clients.
Via our Fund Risk Assessor (FRA) tool and Risk Rating services, we enable advisers and fund managers to carry out their own risk mapping and review their investment propositions on an on-going basis. It does this by applying a consistent and robust approach to determining the risk level of a fund, which is compared to the asset allocation benchmarks from any standard risk profiling questionnaire or process.
Where our Fund Risk Assessor tool is used to assess risk for the entire or certain aspects of a portfolio, funds can be added via our fund data feed, which is provided by Financial Express. Alternatively, funds can be added manually by defining via the underlying asset classes.
As the term over which a risk assessment is carried out can have a significant impact, our risk assessment process accounts for this via the output from our asset mode, which ensures the volatility over varying durations for each underlying asset class is captured.
The benchmark asset allocations can be defined for each risk profile and these benchmarks are used to determine the position on the risk scale against which the asset allocations of the selected funds, or portfolio, can be assessed. We look at the range of client outcomes at the end of a specific term where a benchmark asset allocation is then calculated and used for assessing the risk rating of the selected funds.