Best performing multi-asset allocation on the market
For more than a decade, our range of strategic asset allocations has been used by our clients to manage real money, delivering a strong long-term track record, that has consistently outperformed the market.
Our stochastic forecasting model and best in class interest rate model have been crucial to our success. From foreseeing the 2008 Global Financial Crisis to successfully navigating the prevailing headwinds of financial market volatility, our model sits at the core.
| | | | | |
| --- | --- | --- | --- | --- |
| £10bn in Assets Under Replication | | 10+ years of strong returns | | 10% average annual return |
Source: EValue, as of 31 January 2020.
Our recommendations deliver outperformance
Architas use our asset allocation recommendations to run a range of passive growth funds.
The Architas Multi-Asset Passive Growth Fund has produced long-term outperformance when compared with a selection of risk-targeted multi-asset funds, a typical 60/40 fund, the FTSE 100 index.
Figure1: Net Performance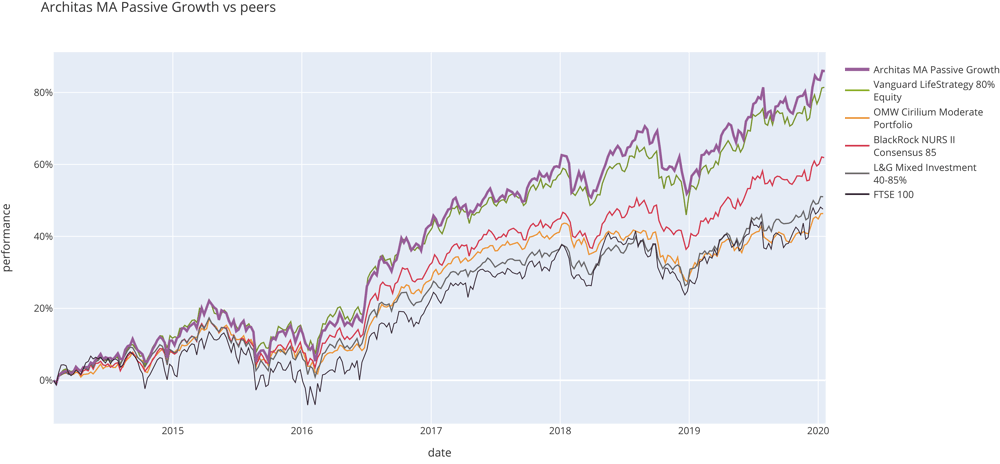 Source: EValue, as of 31 January 2020. Date range (31/01/2014 - 31/01/2020). Performance figures are shown in sterling, inclusive of reinvested income and net of the ongoing charge and portfolio transaction costs to 31 December 2019. Past performance is no guide to future returns.
Our investment beliefs
At EValue Index Solutions, we have created an industry-leading range of strategic multi-asset allocation portfolios.
Robust
Our range of multi-asset portfolios have outperformed the competition in all market conditions. We take a rules-based approach with no data mining to prevent the risk of cherry picking.
Strong Investment Conviction
Accurate interest rate modelling within a consistent and integrated framework is crucial. Significant long-term outperformance is best achieved by steady incremental gains coupled with stable risk benchmarks.
State-of-the-art
Market leading stochastic forecasting model and best in class interest rate model. Index Solutions adopts and promotes index industry best practices.
Proven
Optimised asset allocations have been used to manage real money with 10 years sustained performance. Over £10bn assets under replication. Foresaw the 2008 Global Financial Crisis and other key market events of the past decade.
Our Clients
EValue Index Solutions provides clients with a robust, repeatable and cost-effective multi-asset portfolio solution.
Index companies, ETFs, Passive fund providers, asset managers, wealth managers and platforms can deliver strong risk-adjusted returns using our multi-asset portfolios.
Our service
Access our portfolio by buying a replication licence.
Your replication licence gives access to the following;
Constituents and weights of licenced index/portfolio
Delivery via an API or secure FTP
Quarterly rebalancing report
Research