What is it?
Insight is EValue's industry-leading asset model.
Its robust, realistic forecasting capabilities provide a solid foundation for:
Advisers and consumers to understand investment risk and reward and build plans to deliver secure financial futures
Risk assessment of funds and portfolios taking account of the durational risk characteristics of different asset classes
Delivery of risk targeted strategic asset allocations, which have been used successfully by fund and wealth managers for over 10 years
Product providers and fund managers to use for developing market-leading investment propositions, such as income drawdown pathways.
Why you should use Insight
Enlightening
Shows a range of plausible investment outcomes to help your clients make better decisions.
State-of-the-art
Structured with clear and explicit steps from the inputting of market data through to modelling recommendations and published outputs every quarter.
Coherent
Built from the ground up to ensure consistency between currencies, inflation, yields, income and capital growth.
Realistic
Continually updated to provide an unbiased view of the investment prospects implied by current markets.
Flexible
Deployed over multiple time horizons, for multiple goals in multiple currencies and in all major countries around the world.
Proven
25 years of deployment and continuing development and used by our blue chip clients, Insight delivers proven performance against risk targets.
All of our tools and widgets are based on our calculation and advice engines.
They provide a foundation of reliable, compliant financial planning, so you can trust the information they give you.
Calculation Engine
Our Calculation Engine is the power behind our robust and realistic forecasts. It carries out all the calculations to meet your financial planning needs.
It can process thousands of simulations in under a second, giving you a wide range of forecasts and scenarios.
The Calculation Engine also ensures consistency across all modules and distribution channels, delivering a genuine omni-channel approach.
Advice Engine
Our Advice Engine makes automated advice possible. It has all the algorithms and parameters needed to create a comprehensive range of robo advice solutions.
We can configure these parameters to your specific business and regulatory compliance requirements. So, you can deliver automated advice that's guaranteed to be compliant.
Ways to use Insight
Result forecasting, risk management, asset allocation and investment proposition development
Insight will help you
Paint a real-world picture of your client's future to help make grounded investment decisions.
Create and manage asset allocations tailored to your requirements – taking into account the wide range of assets available – with the aim to deliver great risk-targeted investment performance.
Risk rate a fund against a benchmark and term of your choosing, out of the thousands of investment funds available in the market.
Ways to use Insight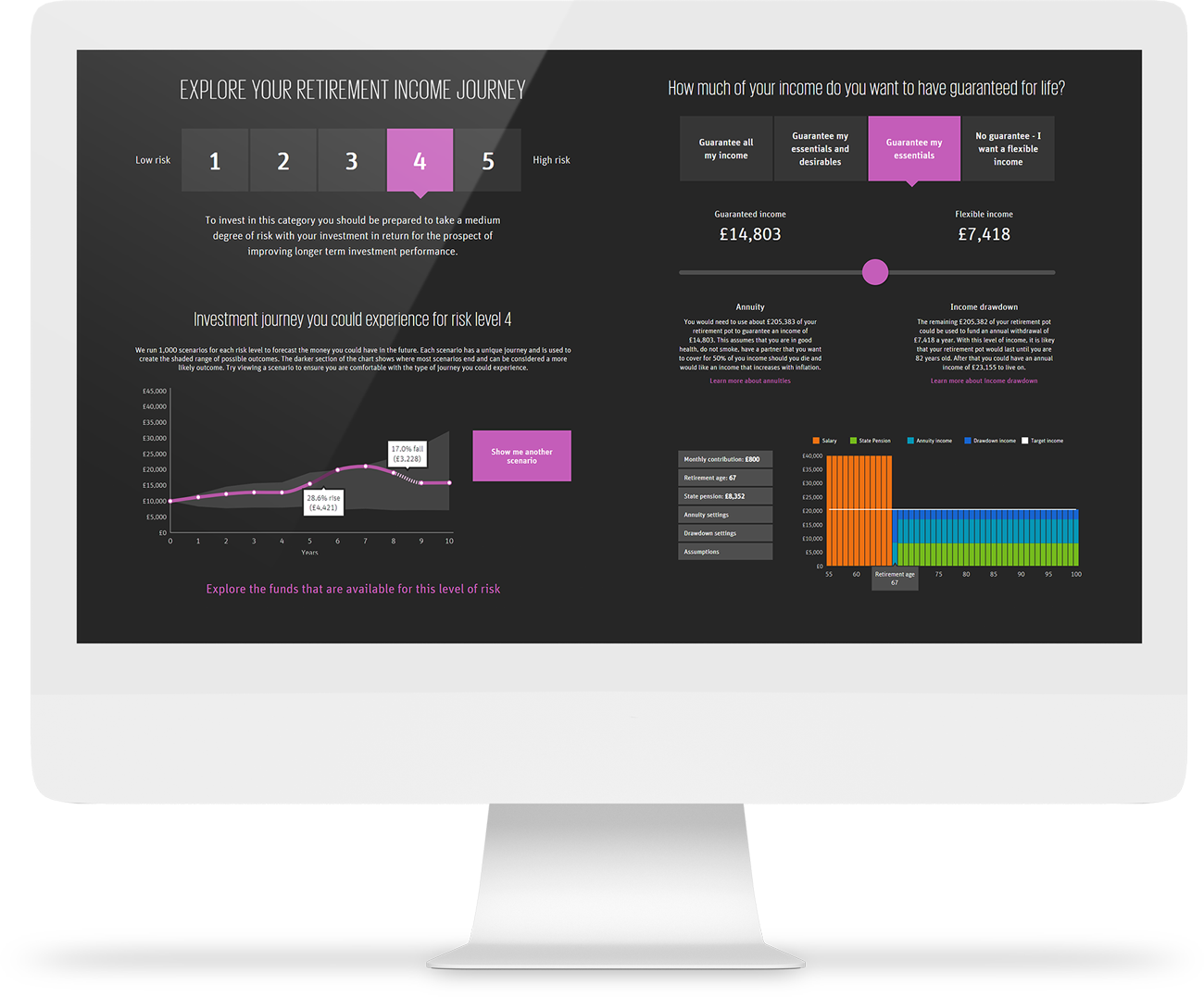 EValue's Insight pedigree
With over 25 years' experience, we help our clients realise the digital transformational benefits of stochastic modelling.
Our comprehensive range of services, used by 80% of the UK's largest financial institutions, provide the expertise you need to meet the challenges of today's financial planning and wealth management landscape:
Pension and investment forecasting
Advanced financial planning tools for advisers
Automated multi-goal digital advice
Risk suitability
Optimised strategic asset allocations for fund managers