Unleash the power of diversification, with asset research you can trust.
For risk-rated multi-asset portfolios, both the level and variability of returns are critically important. Getting the asset allocation right is the key driver of both, so much so, that 90% of investment returns are dependent on the right asset allocation.
Our solutions support your end-to-end investment process by empowering your investment research teams with a range of quarterly reports, detailing the power of asset diversification and current macroeconomic factors.
This enriched data content is based on the underlying intellectual property of our strategic asset allocation modelling and can be fully customised around your needs, or directly replicate into your funds, optimising your multi-asset allocations.
We have an industry-leading range of dynamic multi-asset allocation portfolios, built on four core investment beliefs that..
A realistic and accurate asset model is crucial to making correct decisions around diversification.
You can achieve sustainable performance through a consistent and objective framework for judging the relative attractiveness of different asset classes
Risk benchmarks should be stable and only respond gradually to changes in short-term volatility.
Steady incremental gains best achieve significant long-term outperformance.
Powerful
Powerful modelling that can take account of risk preferences, personal circumstances, investment policy, life expectancy, inflation and more
Highly capable
Capability to handle a whole range of retirement income solutions and allow comparisons on an equivalent basis
Keeping current
Regular updates to ensure the risks considered and opportunities available are always current
Reliability
Based on a model that has a long history in risk management, is used in regulated environments and with money on the line
Our powerful research and optimised multi-asset allocations sit at the heart of our clients' investment process, helping to deliver investment solutions that meet their investment objectives. Our dynamic approach to asset-allocation has successfully helped our clients navigate periods of market volatility based on our robust modelling framework.
Liontrust use our dynamic asset allocation recommendations to run a range of passive growth funds. The Liontrust Multi-Asset Passive Growth Fund has produced consistent long-term outperformance against a selection of benchmarks.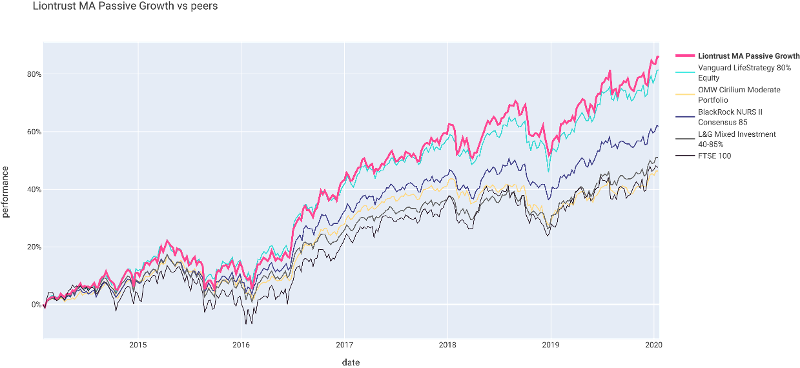 Source: EValue, as of 31 January 2020. Date range (31/01/2014 - 31/01/2020). Performance figures are shown in sterling, inclusive of reinvested income and net of the ongoing charge and portfolio transaction costs to 31 December 2019. Past performance is no guide to future returns.
We provide our clients with a robust, repeatable and cost-effective multi-asset portfolio solution. Index companies, ETFs, fund providers, asset managers, wealth managers and platforms can deliver strong risk-adjusted returns using our multi-asset portfolios.