46% of consumers who sought financial advice between 2020 and 2022 chose an online service.*

It's time to join the digital advice revolution!
Seamlessly connect guidance, digital advice, and face-to-face advice to create a complete hybrid advice journey that works for your customers and advisers.
Unlock the power of personalised financial planning
With our customisable financial planning software, you can offer your clients the perfect balance of digital and human advice, allowing them to confidently plan for their future, while achieving their desired level of wellness.
Empower your business to provide seamless support that spans the entire spectrum of client needs, from guidance to digital, hybrid, and traditional advice.
By enhancing your services in this way, you'll be able to meet a wider range of evolving client needs and preferences, ensuring not only greater customer satisfaction but your business's future profitability and success.
Technology and support at every stage, to help you build the advice proposition right for your customers and advisers
Create a personalised digital and hybrid financial advice journey
Personalise your adviser-led or self-serve client journeys with configurable, engaging digital financial advice software. Easily build a seamless financial advice journey that covers the initial client fact find and all subsequent stages of investment, retirement planning, and protection advice to meet the needs of your existing and next generation of clients.
There are four areas that our digital and hybrid advice solution covers, from client fact find through to investment, retirement, and protection. Read on to find out more.
Client Fact Find
Enhance your advice process by giving your clients a deeper understanding of their current financial situation, empowering them to identify their needs and plan what to do next.
Begin the advice journey with a clear overview of your clients' current situation, including their current finances, wellbeing, lifestyle needs, vulnerability, knowledge & experience, and risk appetite.
Future-proof client plans
Provide a solid foundation that enables you or the client to create a robust, forward-looking financial plan based on the clients' information.
Use either as part of a hybrid advice solution to enrich client conversations or within a fully digital advice solution, allowing the client to receive advice online with the knowledge that support is on hand when required or as their advice needs evolve.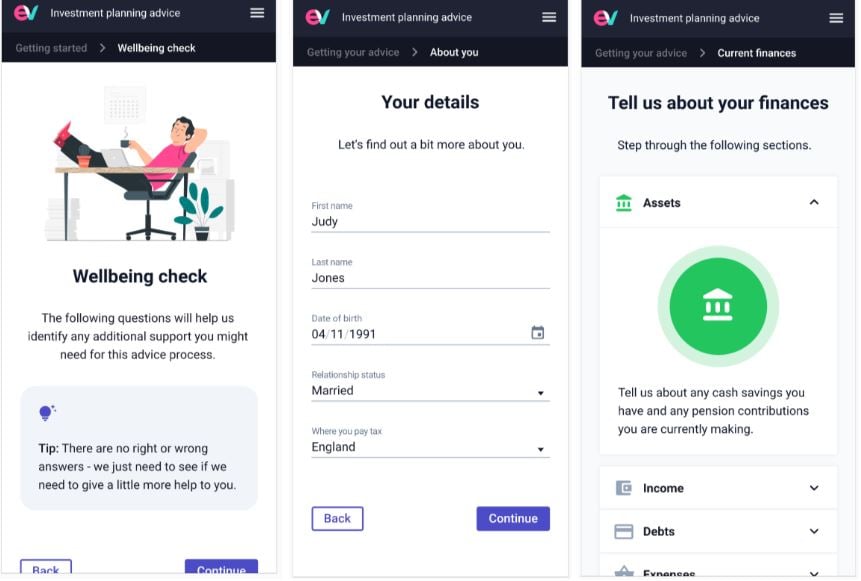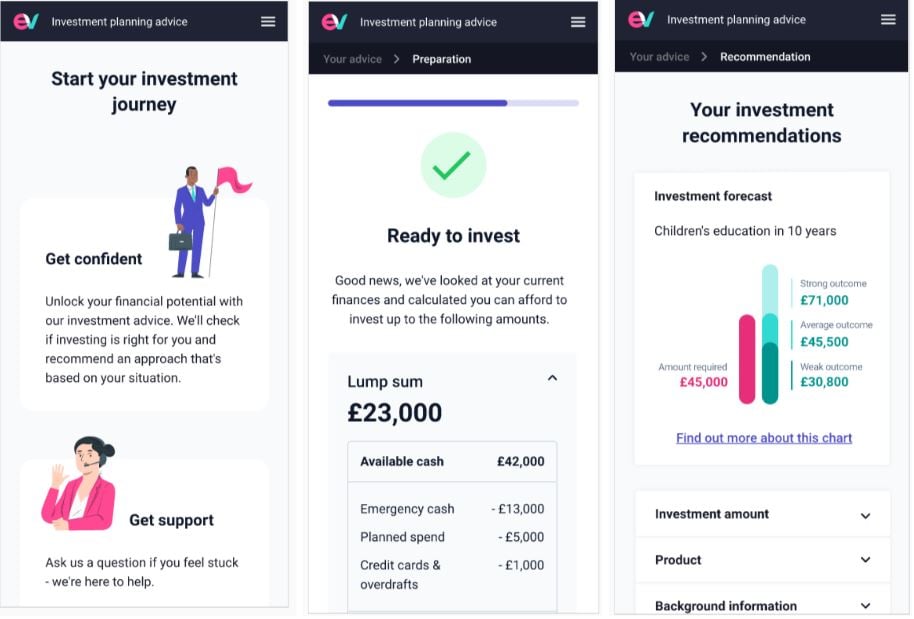 Investment
Help your clients make the best possible start to their savings and investment journey, allowing them to plan independently, with an adviser, or a combination of both. They can review and optimise their plan anytime if they're already on their investment journey.
Set realistic lifestyle goals
Help clients to create a plan to achieve their desired lifestyle goals and aspirations, giving them the crucial information they need to achieve them.
Give your clients confidence
Investing can be a daunting experience, particularly for those new to the process. However, by helping your clients understand the risk and rewards of their investments, you can give them the confidence to take control of their financial future.
Guide your clients towards the most suitable investments that meet their needs enabling them to grow their money in a way that is right for them. Futureproofing your advice processes, with the ability to add and amend the products and investments used as your clients' situation changes over time.
Retirement
Empower your clients to secure their future and be financially independent in retirement. Clients can either self-serve on their own through a digital advice journey or with an adviser as part of a hybrid advice process. Whichever route, all phases can be supported, from planning for retirement to making choices at retirement and managing income during retirement.
Seamlessly take clients from before, into and through retirement with the consistency they expect from one stage of their lives to another. Helping clients maximise their retirement savings, setting them up for a more comfortable and enjoyable retirement.
Retirement plans made simple
Provide your advisers and clients with the ability to identify all retirement income solutions from the simplest to the most complex - all presented in jargon-free terms that your clients will understand.
Realistic client outcomes
Give your advisers and clients a more realistic view of potential risks and outcomes to ensure their retirement plan remains on target. Backed by the latest data, with thousands of potential future scenarios analysed.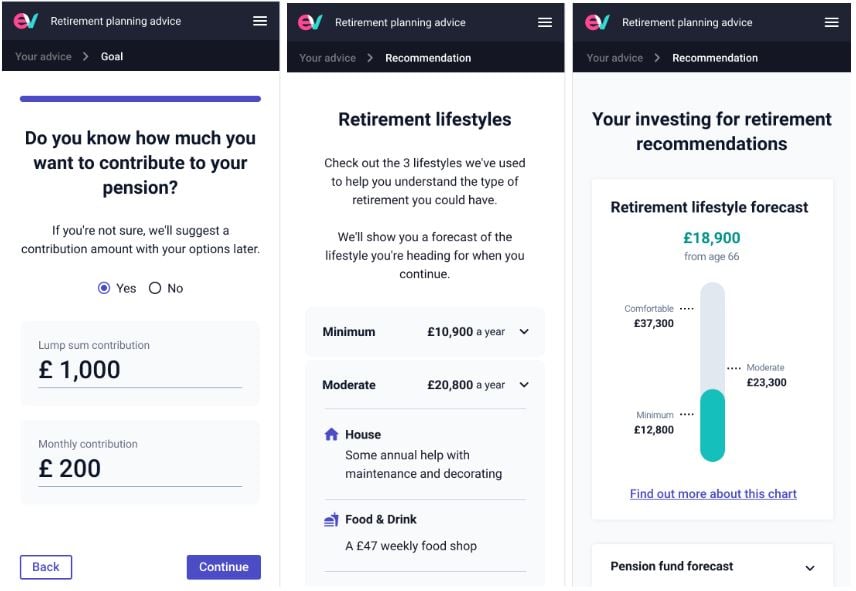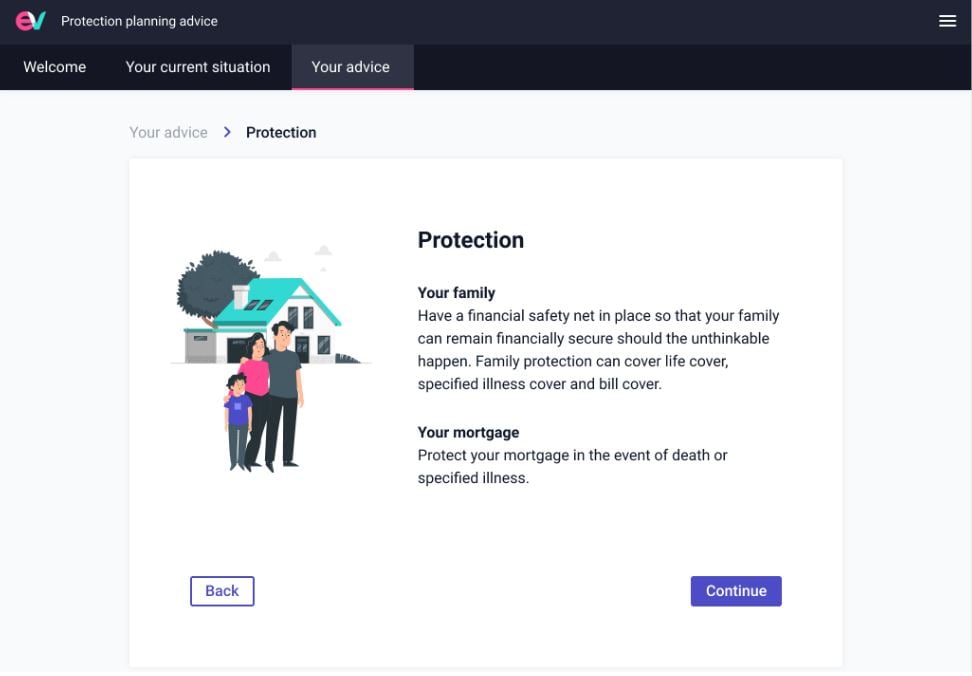 Protection
Provide clients with expert protection advice to ensure they have the necessary cover, giving them secure comfort in unfortunate circumstances.
Reassure your clients that their protection needs are fully met with options, including income and mortgage protection, life cover or critical illness.
Secure your clients' lifestyle
Identify gaps in your clients' protection that could negatively impact their lifestyle in the event of a worst-case scenario, helping them prepare for any unforeseen circumstances. In addition, by presenting a complete overview of your clients' financial position, they can understand where they are, and what possible protection they might need today and in later life.
Help your clients understand the value of protection and its impact on their financial plan, giving them comfort across all stages of life.
What we can offer for your digital or hybrid-advice solution
Once built, your digital or hybrid-advice solution allows you to:
Align your customer's financial improvement with your business objectives
Filter to ensure customers use the right products or services
Support

customer

loyalty and provide nudges when products or services could help
You can therefore ensure you have the following:
A tailored experience for your customers
Consistent multi-channel advice processes to ensure you meet the same rigorous standards no matter how you provide the advice
Integration into existing systems for customer and external data
Customisation and maintenance

for your products, funds, and advice rules.
We deliver this by integrating a unique combination of components to provide a solution that works for your customer base and advice processes.
Where to start?
There are several ways you can create your own end-to-end digital advice journey. There's the build or buy question. Or whether you take a combined approach. There's also the consideration of your business set-up.

We have vast amounts of experience in working with adviser firms, banks and building societies. Our end-to-end digital financial advice tools have been developed to help you create the right solution for your business.
Our fully integrated adviser tools provide the foundations to deliver a seamless advice proposition, helping you reduce the cost of delivering high-quality financial advice while ensuring the right client experience and outcomes.
Browse our related insights and resources on the growing influence of digital financial advice solutions.
*https://store.mintel.com/report/uk-consumers-and-financial-advice-market-report