A short history lesson
The UK government released Pension Freedoms in 2015. The new legislation aims to provide consumers with more flexibility around how and when they can access their pension savings.
Consumers have the freedom to choose the type of pension products, i.e. annuity or drawdown they could purchase. Alternatively, they could choose to cash in their entire pension pot, which if not suitably advised, could lead to a negative impact on their desired lifestyle in retirement.
In July 2019, the FCA announced a series of new rules as part of it's PS19/21: Retirement Outcomes Policy Statement aimed specifically at non-advised drawdown consumers. These rules looked to level the playing field by promoting fair competition while providing more precise and more transparent information relating to fees and costs.
The new rules and guidance include:
Introduction of 'Investment pathways' for all consumers entering drawdown without taking advice

Ensuring all consumers only invest in cash if they take an active decision to do so

The requirement for all pension providers to send annual information on all the costs and charges paid over the previous year to consumers who have accessed their pension.
The concept behind investment pathways is relatively straightforward. Prior to a customer accessing their pensions savings, they will be required to pick one or more of four pathways that meets their individual objectives.
Pension providers will need to offer a default investment solution for each of the four pathways, assess the appropriateness of each pathway solution, and communicate to consumers so they can make their assessment as to whether the solution matches their needs.
The policy statement sets out our four consumer objectives;

How can you meet your obligations?
In light of the new regulatory requirements, we suggest the following 5-step process:
Identify a set of consumers' characteristics to derive an assumption as to their risk tolerance


Set a specific objective together with an associated target risk definition


Design each pathway solution taking into account the consumers' risk tolerance and the specific objective


Assess the appropriateness of each pathway solution


Communicate to consumers so they can make their assessment as to whether the solution matches their needs and attitude to, or capacity for, risk.


The FCA-prescribed objectives are necessary in order for the consumer to understand the purpose or goal of each pathway. However, these are insufficient in isolation in terms of adequately setting consumer expectations of outcomes. Setting expectations realistically is key to avoiding future potential consumer disappointment and complaints. This is particularly important for the Option 3 pathway (I plan to start taking my money as a long-term income within the next 5 years) as consumers will likely have widely different expectations about the level of income they expect and for how long this income will be sustainable.
Setting expectations and communicating the risk target will have the additional benefit of allowing consumers to make their own assessment of whether the solution matches their needs, attitude to risk and capacity for loss. Indeed, it is a regulatory requirement that the communication to the consumer is such that it enables them to make their own assessment.
Using investment pathways to shape strategies
The FCA has not been prescriptive around the investment pathway solution or risk profile across the four objectives, meaning you have the flexibility to mix and match across different funds, asset classes, or even use a variety of providers across each objective. However, you must supply a default investment solution per investment pathway to ensure the best outcome for each customer objective.
Before the release of investment pathways in August 2020, you need to select or design an investment solution for each pathway objective. Once chosen, each pathway investment must then be assessed for its appropriateness by your Independent Governance Committee (IGC) or Governance Advisory Arrangement (GAA).
It's challenging to design a one-size-fits-all investment that is appropriate for a range of people with different characteristics. Each consumer has widely differing personal circumstances, yet despite this, providers can only provide one choice per customer for each objective.
There are several ways that investment pathways will change the investment strategies you offer. You'll need to align your propositions and solutions with the four options, and guide customers through each to ensure they match their objectives;
The chart below has some example strategies you could use, to fit each of the pathways.
To recap:
Option 1: I have no plans to touch my money in the next 5 years
Option 2: I plan to use my money to set up a guaranteed income within the next 5 years
Option 3: I plan to start taking my money as a long-term income within the next 5 years
Option 4: I plan to take out all my money within the next 5 years
It's important to remember how important terms will be now for investment structures: different time periods will require different investment strategies
Sophisticated strategies for drawdown
Keeping everything as simple as you possibly can help make the investment pathways a smooth ride.
For the majority of customers, advisers will need to take the investment pathways into account and then fit them into their needs and objectives. This may mean splitting pots across multiple objectives and using a variety of terms.
But overall, it will require more sophisticated strategies for investment in drawdown. And then you'll need to explain to your customers – in the right way – how your strategy fits into the pathways they've been told about.
Sustainable investment strategies
The investment strategy to support income drawdown is different from the approach typically used for accumulation.
There are many reasons for this:
The objective for drawdown is different – a sustainable income during retirement compared to the accumulation of wealth

The measure of risk is consequently different – variability of income as opposed to volatility in accumulation outcomes

An income drawdown portfolio needs to seek to earn a return better than bonds to overcome mortality drag otherwise an annuity offers the prospect of a significantly higher income without the risks associated with drawdown

While a high return is needed to overcome the negative effect of mortality drag, the high volatility associated with a substantial equity weighting leads to a more rapid depletion of the capital supporting regular fixed income withdrawal




The interplay between the following factors also influence the approach:


The amount of income drawn

The length of time for which the income is required (life expectancy reduced by less than a year for each year survived which means that income required for a more extended period than initially anticipated)

The volatility of investment markets




So, the investment strategy requires continuous attention and potential adjustments to the income drawn.
From the above, it's clear that a different approach to asset allocation and risk rating that currently used for capital accumulation.
A range of income drawdown funds is needed to ensure the amount of sustainable income or drawdown rate with risk bands based on the potential shortfall of income.
Choosing the right asset model - Deterministic vs. Stochastic
Future economic events are highly unpredictable. The challenge for financial services companies is to provide potential forecasts which are as realistic as possible, to enable consumers to make better-informed choices about their future.
Traditionally, deterministic models have been used in modelling tools to project future investment returns. Although deterministic models have the benefit of simplicity, they rely on single assumptions about long-term average returns and inflation, purporting certainty where none exists.
In reality, such outcomes, in particular income drawdown outcomes, can be easily upset by the unexpected implications of sequencing risk, with no allowance made for the fact that markets are complex, irregular and ever-changing. All of which renders deterministic models inadequate and potentially misleading.
Stochastic models can reflect real-world economic scenarios, providing a range of possible outcomes that an investor may experience and the relative likelihood of each.
By avoiding the significant shortfalls inherent in deterministic models, stochastic models provide realistic, robust forecasts that demonstrate the suitability and enable consumers to make well informed and sensible investment choices, which directly impact on their future wealth prospects and lifestyle.
Economic scenario generators (ESGs)
Economic scenario generators (ESGs) produce thousands of plausible paths of how investment markets may progress from current conditions, and show potential changes in economic variables such as inflation too.
ESGs, therefore, can take full account of the durational characteristics of investments and relationships between past and prospective returns. Especially in bonds, which are likely to have a significant role in drawdown investment strategies, and with any future annuity purchase.
An ESG generating thousands of future realistic investment paths is the appropriate model to use. But it's important to undertake due diligence on your chosen ESG to ensure that it's robustly constructed with a track record of producing reliable forecasts.
What is sequencing risk?
Sequencing risk refers to how the order in which investment returns apply over time impacts the value of a portfolio.
During the accumulation phase, when consumers are saving for retirement, often they can afford to ride out the ups and downs of the stock market. But for those nearing retirement, or who are currently drawing down income from their retirement pot, sequencing risk can be a real problem.
Unfavourable investment returns at or near retirement can have a significant impact on the long-term value of a portfolio, severely increasing the chances of a client running out of money in the future. If an individual were to suffer a couple of bad years in the early stages of drawdown, they would be unlikely ever to get their financial plan back on track.
In the below chart, scenario 3 shows the impact of poor performance early in drawdown. The fund value is almost half the value after just a few years and is unable to recover. In contrast to this scenario, scenario 1, which has the same annual average return as per scenario 3, benefits from an excellent performance in the early years, allowing a healthy pot to be maintained throughout retirement.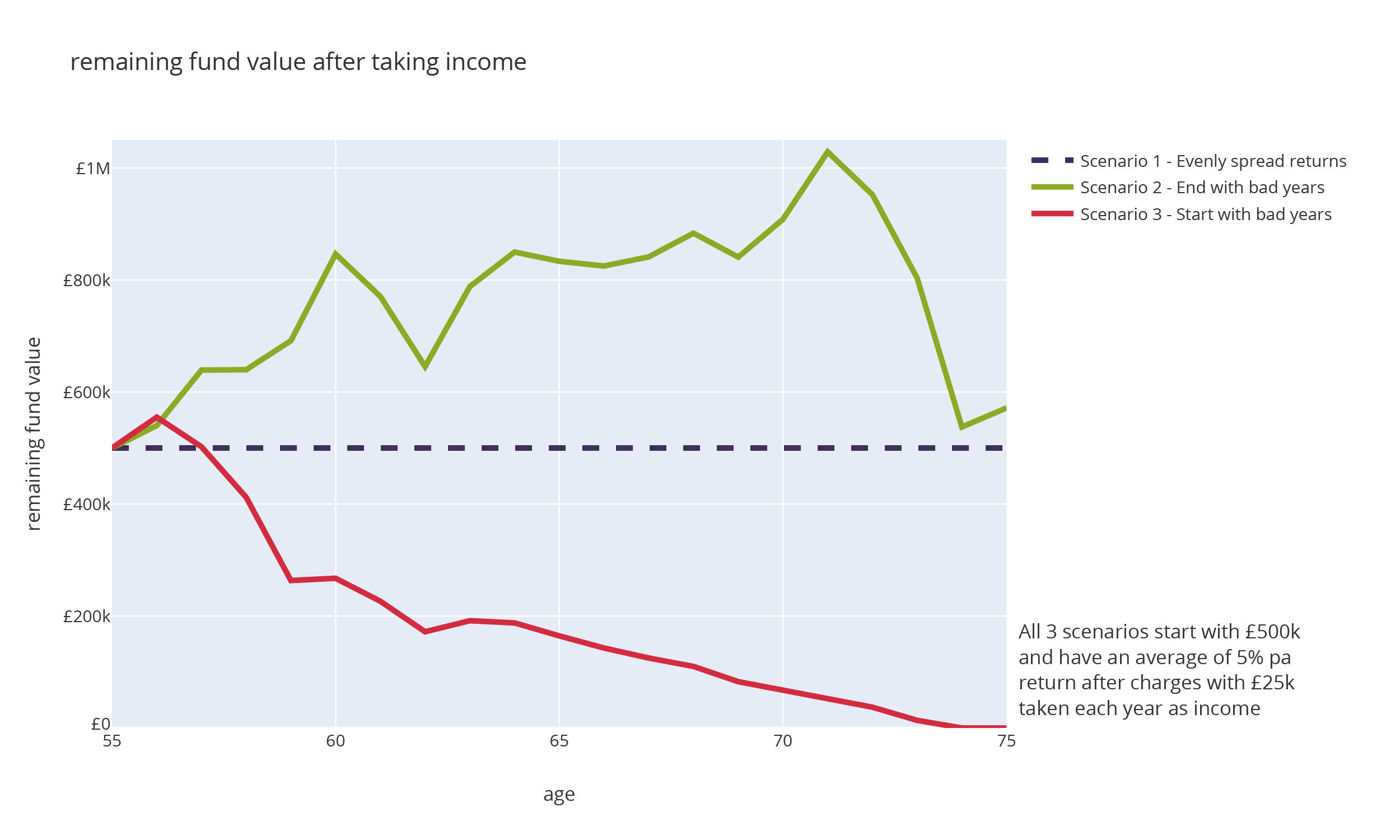 Mortality can be a real drag
As people age, their average life expectancy does not reduce at the same rate – their age at death increases.
For example, the average joint life expectancy for a 65-year old couple today is 24.3 years. But by the time they are 80 ( in 15 years' time), their life expectancy is now 12.1 years, not 9.3 years – an increase of almost three years.
For a retiree in drawdown, every passing year means they have likely overspent and that their remaining pot now has to go further to meet the additional life they have "gained". This is called mortality drag.
To make matters worse, this built-in disappointment gathers pace with age (as you can see in Figure 1). This makes the retiree increasingly sensitive to changing market conditions and personal circumstances.
Mortality drag can also be demonstrated by considering how much a pension drawdown fund must grow by, for each year that someone defers buying an equivalent annuity. Figure 1 shows the rate of growth compared to the age someone may purchase an annuity.
This simplified graph: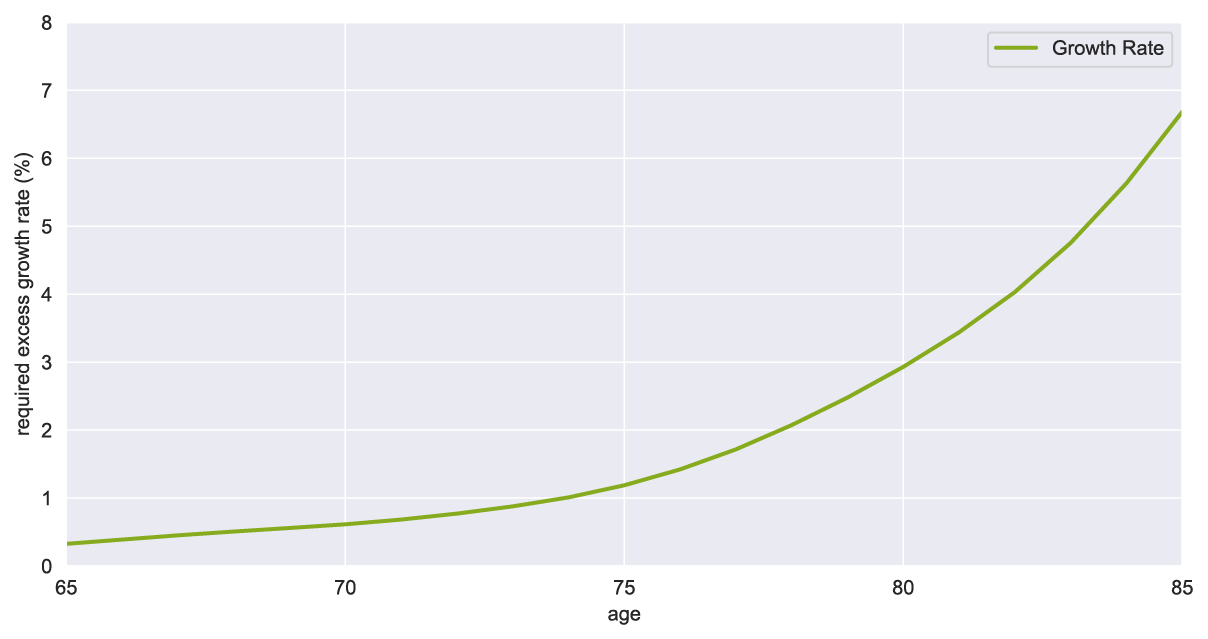 1. Assumes that a fixed income is drawn each year at a rate matching the annuity that could be bought at the outset.

2. Calculates how fast the remaining portfolio must grow each year, to be able to buy the same annuity as the retiree ages.

3. Assumes the annuity interest rate remains unchanged throughout.
The increasing pace of mortality drag with the passage of time means the retirement fund must work increasingly hard on a diminishing portfolio. It does this by taking on more risk.
Or, the pensioner could resort to a progressively frugal lifestyle by drawing a smaller and smaller income.
Unfortunately, neither of these approaches is guaranteed to work. And both invite disappointment in one form or another.
Annuities get around this issue by taking advantage of mortality cross subsidy (or mortality credits). This is where retirees living longer than average are subsidised by those who have died earlier.
For a retiree in drawdown, this luxury is not available. They increasingly carry the risk of outliving their pension pot and running out of money. Because of this, the optimal sustainable income required to avoid disappointment remains elusive. And the drawdown journey needs careful planning and life-long monitoring.
How can stochastic modelling help?
While deterministic models often consider a selection of future outcomes, stochastic models consider a range of possible future outcomes based on several factors such as investments held and other important economic factors.
As a result, by illustrating the probability of a different sequence of investment returns occurring, stochastic modelling can help consumers understand the effect of sequencing risk on the long term value of their portfolio and the sustainable income withdrawals that can be made.
The chart below communicates the range of outcomes that are possible and provides a probability of achieving the desired income.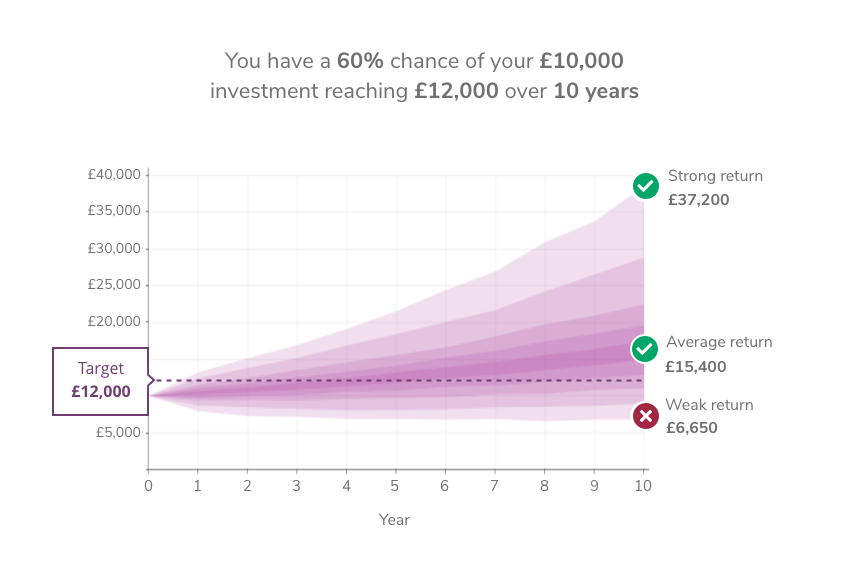 Why stochastic modelling is the right choice
Key to helping consumers manage their money effectively is fully understanding the impact that different investment returns, time horizons and other economic factors may have on the value of their Portfolio.
Future investment returns are not known at the outset. Despite this, deterministic models assume investment returns will be the same every year. It ignores inherent randomness in the markets, giving consumers the impression of certainty where none exists.
Real-world attributes are further neglected since deterministic models do not consider investment time horizons. Therefore they are unable to reflect the term dependency of risk and return associated with different asset classes.
Furthermore, sequencing risk is downplayed by a deterministic model's assumption of long-term average investment returns. As the timing of high or low returns can make a significant difference to the final fund value, this could severely undermine an individual's future wealth prospects.
Stochastic forecasts significantly improve on deterministic outputs by considering the unpredictability of investment returns and other economic factors such as inflation, which is also subject to sequencing risk.
By running thousands of calculations, using many different estimates of future economic conditions, stochastic models predict a range of possible future investment results showing the potential upside and downsides of each. Engaging graphics help
consumers see prospective outcomes in terms of the probability of successfully meeting their financial objectives, helping crystallise their capacity for loss.
Providing information in this way enables stochastic models to offer more significant potential than deterministic forecasts for analysing risk and enabling investors to make informed decisions.
How independent oversight will assess the appropriateness of your pathway solutions
The requirement for you to establish an independent oversight function that accesses the appropriateness and suitability of your pension activities has been around for a few years now. Independent Governance Committees (IGC) were set up in 2015 to access the value-for-money of workplace personal pensions in accumulation, i.e. before pension savings enter drawdown.
You may also look to a third party to set up a Governance Advisory Arrangement (GAA), as an alternative to an IGC. These are typically more appropriate for providers with a smaller number of customers or less complicated pension schemes.
In December 2019, the FCA set out its final rules for extending the remit of Independent Governance Committees (IGCs) in its PS19/30 policy statement.


The policy extended the remit of IGCs to include;
a new duty for IGCs to consider and report on their firm's policies on environmental, social and governance (ESG) issues, member concerns, and stewardship, for the products that IGCs oversee

a new duty for IGCs to oversee the value-for-money of investment pathway solutions for pension drawdown (pathway solutions)




If you are offering offering investment pathway solutions must establish an IGC or a GAA by 6th April 2020. IGCs and GAAs will need time to assess the proposed design of pathway solutions, and firms then need to take implement any recommendations before 1st August 2020.
What will your IGC or GAA be accessing?
The FCA expects IGCs to assess the extent to which each pathway solution is appropriate for the pathway objective and the characteristics of the consumers likely to be using it. FCA rules require IGCs to assess the proposed design of pathway solutions before they offer to consumers.
The overall outcome sought by the FCA is pathway solutions that offer value for money, which means "costs and charges that are good value relative to the quality of the pathway solution and associated services, and a pathway solution that is appropriate for the pathway objective and the characteristics of the consumers likely to be using it".
In explaining what the IGC/GAA must assess, the FCA states: "we mean the investment design of the pathway solution, including the underlying investments and allocations to these. To align the characteristics of pathway solutions with the interests of pathway solution investors, the firm would need to take into account the prescribed objective of each pathway solution, as well as the characteristics of the consumers that the firm expects to be using its pathway solutions".
FCA rules require the IGC/GAA to assess the proposed design of pathway solutions before they are offered to consumers. FCA rules also require IGCs/GAAs to consider whether communications to customers are fit for purpose and properly take into account their characteristics, needs and objectives.


What are the benefits of an Appropriateness report?

Investment pathways apply to non-advised consumers entering drawdown. FCA rules, which come into force on 1 August 2020, require product providers – for each of 4 FCA-prescribed objectives – to offer a single pathway solution to each consumer.
The FCA has also introduced the requirement for independent oversight of pathway solutions by Independent Governance Committees (IGCs) or Governance Advisory Arrangements (GAAs). The FCA expects IGCs/GAAs to assess the extent to which each pathway solution is appropriate for the pathway objective and the characteristics of the consumers likely to be using it. FCA rules require IGCs/GAAs to assess the proposed design of pathway solutions before they are offered to consumers.
EValue has developed a process which analyses in detail each of the pathway solutions developed by a product provider. An Appropriateness Report is produced which summarises the results of the analysis and forms a judgement as to the appropriateness of the pathway solutions which the product provider proposes to offer. The output from Appropriateness Reports should also be invaluable to providers as part of their product design processes.
Importantly, the Appropriateness Report produced by EValue will also provide an evidence of the process for the product provider's IGC/GAA to consider. As part of its scrutiny, an IGC/GAA will need to assess the extent to which it believes each pathway solution is appropriate for the pathway objective and the characteristics of the consumers likely to be using it. The Appropriateness Report will therefore provide an IGC/GAA with the required insight in order to help it fulfil its independent oversight duties.
How to meet your customer communication obligations
As outlined in the FCA PS19/21 policy statement, you must supply customers invested in the respective pathway investment solution with an annual statement that includes the following:
(1) a short description of each pathway investment the customer is invested in, including the corresponding investment pathway option under COBS 19.10.17R(1) and the current value of each pathway investment in cash terms;
(2) (for those customer's invested in two or more pathway investments) how the customer's drawdown fund is split, in cash terms, across the different pathway investments and the corresponding investment pathway options;
(3) a short description of the investment pathway options the customer is not currently invested in (COBS 19.10.17R(1));
(4) a statement reminding the customer that they can, at any time;


select a different investment pathway option and change their pathway investment;


select an investment that is not a pathway investment;


(where this option is available) split their drawdown fund across two or more pathway investments;


choose a different product to access their pension savings;


shop around, with an explanation of how they may do so.


Furthermore, if a customer has been invested in the same pathway investment for 5 years (or a multiple of 5 years) a firm should consider including in their next annual statement:
(1) a reminder of the number of years the customer has invested in the same pathway investment; and
(2) a statement that the customer should review the investment pathway option.
Providers must be able to communicate the riskiness of each pathway solution in such a way that the consumer can see whether it matches their attitude to, or capacity for, risk.